Eurotech welcome a new Apprentice to the team!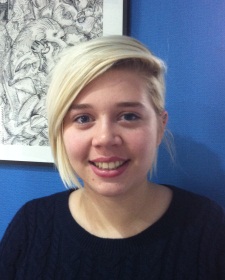 Introducing Abigail Hunt…Abbie will be completing an NVQ Level 2 in the Principles of Marketing whilst supporting both the Marketing and Sales teams at Eurotech. Before you meet her for yourself, read her answers to our getting to know you quiz!
So tell us a bit about yourself…
Before starting at Eurotech I was studying at Strodes College in Egham, after finishing my first year I decided that I wanted to join the real world and get some practical experience by looking for an Apprenticeship. I've worked at Barratt Shoes, Kempton Park Racecourse and Picsolve International within Thorpe Park where I sold visitor photographs. I have always had a keen interest in Sales and find that I've always been better at going out and working rather than studying, so that's what I've decided to do!
What made you want to work for Eurotech?
I have a Sales background but the flexibility of having two different roles, sales and marketing was the main attraction. As well as being able to learn through an NVQ whilst on the job and researching the company, I was very keen to apply.
Why an NVQ in Marketing?
Marketing is something new and different for me and it will be interesting as to learn and create new ways to present products whilst seeing the affect it has on sales. The new challenge and learning new things made me want to ultimately apply. I see marketing as creativity with an open mind for new challenges and views, I am opened minded and can widen my knowledge to see different views; I'm sure this will help me to market products here at Eurotech.
What do you hope to achieve at Eurotech?
At Eurotech I hope that I can continue to progress and develop my understandings of Marketing and in the company as a whole. I would like to expand my knowledge of the companies I will be working with as well as the products I will be helping to market.
What do you like to do in your spare time?
In my spare time I go to the gym, I enjoy swimming. As well as spending time with my friends, I like to spend time with my family.
So there she is in a snapshot, if you'd like to know more just give her a call! 01932 260474, she'll be happy to say hi!
I'm sure you'll all join me in welcoming Abbie to the Eurotech family.
[ninja_forms_display_form id="1"]