10TB Fujifilm Tape Cartridges Announced
Fujifilm Recording Media U.S.A. Inc. announced that Fujifilm will manufacture the data cartridge for IBM's new enterprise tape drive, IBM TS1150.
The IBM 3592 Advanced Data Cartridge Type D incorporating Fujifilm's Barium-Ferrite (BaFe) particle will have a native storage capacity of 10TB and support transfer speeds up to 360MB/s.
"This announcement demonstrates the collaboration on technology development between IBM and Fujifilm," said Norio Shibata, Fujifilm Corporation. "Fujifilm has been actively developing high recording density media using BaFe and together with IBM has proven the capabilities of BaFe technology; first in 2006 with a 6.67GB per square inch data density demonstration, again in 2010 with a 29.5GB per square inch data density demonstration and most recently in May 2014 with a 85.9GB per square inch data density demonstration, which is equivalent to a single tape cartridge capable of holding 154TB of uncompressed data. We are pleased to be the manufacturer of this next generation IBM 3592 data cartridge incorporating our BaFe technology."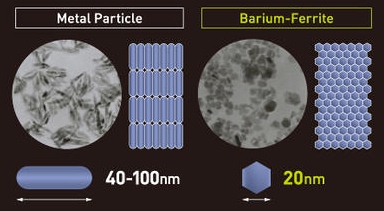 Through the development of digital technology, the amount of data generated on a daily basis continues to increase. Advanced magnetic tape has advantages that address capacity, portability, reliability, longevity and energy efficiency. Tape has been used for years, as the storage media for backup and DR. Given that volumes of valuable data must be accessible in the future, the demand for long term data retention and data preservation is increasing.
The IBM 3592 Advanced Data Cartridge Type D features BaFe particles with excellent magnetic property, a strong thin base film and a newly designed reel brake for high speed seek, resulting in a reliable high capacity tape with faster access times.
"The advanced technology in the IBM 3592 Advanced data cartridge Type D will enable customers to realize much higher densities, while improving the average time to data on the extended length cartridge. The 10TB cartridge density continues to demonstrate tapes viability as the best choice for persistent data in big data and cloud provider implementations," said Shawn Brume Sc.D, business line executive data protection and retention.
Fujifilm has advanced the development of BaFe particles maintaining higher coactivity(using micro fine particles) to realize lower noise, higher frequency characteristics and superior storage performance in comparison to other metal particles. In addition, Fujifilm has advanced its NANOCUBIC technologies: 'NANO particle', 'NANO coating' and 'NANO dispersion' to achieve a smooth thin magnetic layer by coating BaFe particles uniformly, which prevents tape surface waviness and uneven thickness. The company has also verified the long term archivability of BaFe magnetic tape particle through accelerated environmental evaluations. This testing proves that the storage of thirty years or more with BaFe tape particle is possible and that the tape can maintain its magnetic characteristics for long term storage.
[ninja_forms_display_form id="1"]