IBM Expands Storage Portfolio
IBM has added two new products to its all-flash enterprise storage FlashSystem portfolio, which offers industry-leading performance to help customer's lower costs and accelerate data-intensive applications and infrastructure.
Available now, the FlashSystem V9000 and FlashSystem 900 are based on IBM's FlashCore technology, a suite of features and capabilities.
The new solutions provide enough performance to enable real-time analytical insights to customers with up to 50 times better performance than traditional enterprise storage, and up to four times better capacity in less rack space than rival platforms.
The FlashSystem V9000 is a comprehensive all-flash enterprise storage solution, supporting from 2TB to 456TB of internal storage inside a 6U enclosure, but also offering storage virtualisation capabilities to control other external storage systems.
Up to 32PB of external storage can be managed by a single FlashSystem V9000 array, enabling customers to consolidate existing storage systems under a single management domain. It also offers host connectivity options of 8Gbps and 16Gbps Fibre Channel and 10Gbps Fibre Channel over Ethernet or iSCSI.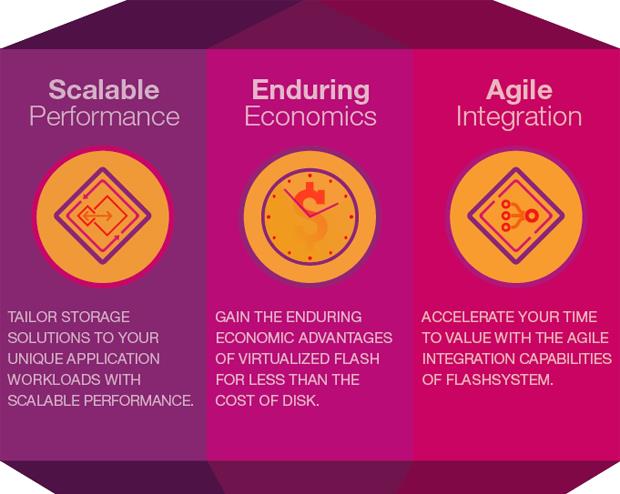 The FlashSystem 900 comes in a compact 2U chassis that can still scale usable capacity from as low as 2TB to as much as 57TB in a single system. This is partly due to what IBM calls MicroLatency modules, parallel flash arrays that provide almost 40 percent higher storage capacity densities than previous FlashSystem models. Host connectivity options for the FlashSystem 900 are 8Gbps and 16Gbps Fibre Channel, 40Gbps InfiniBand, and 10Gbps Fibre Channel over Ethernet or iSCSI.
"Many of our customers are pressured to derive greater business value from an ever-growing amount of data. These IBM solutions can offer extraordinary advantage to any business eager to make more, spend less, and move faster," said Jamie Thomas, IBM's general manager for storage and software-defined systems.