Actfiio – Next Generation Data Management
The heart of the Actifio platform is the Virtual Data Pipeline (VDP), which virtualizes copy data, eliminating redundancies and re-purposing unique data for multiple data management applications. VDP efficiently captures a single copy or "gold copy" of data from production and reuses that data for multiple purposes, allowing applications to directly access the data from the Actifio platform without any physical data movement.
By introducing virtualization to data management, Actifio delivers an application-centric, SLA-driven solution that decouples the management of copy data from storage, network, and server infrastructure.

Actfiio For Backup
Challenges with Legacy Backup
There are a number of problems with legacy backup solutions:
Multiple Point Tools – Leads to operational challenges and a large TCO
Recurring full backups – Causes extended backup windows that impact on the production environment
Long RTO's – Legacy backup products often require complicated and time consuming restore processes which impacts on the business
No Cloud Mobility – Legacy solutions cannot leverage the economics of Private Cloud Object Storage or the Public Cloud
Tape Management – The requirement to manage physical tapes and move them to 3rd party storage locations impedes the speed and accuracy of data recovery
Actfiio Instant Recovery & Access
Actifio addresses these challenges by providing a model for the instant recovery and access to all backed up data for databases, virtual and physical machines: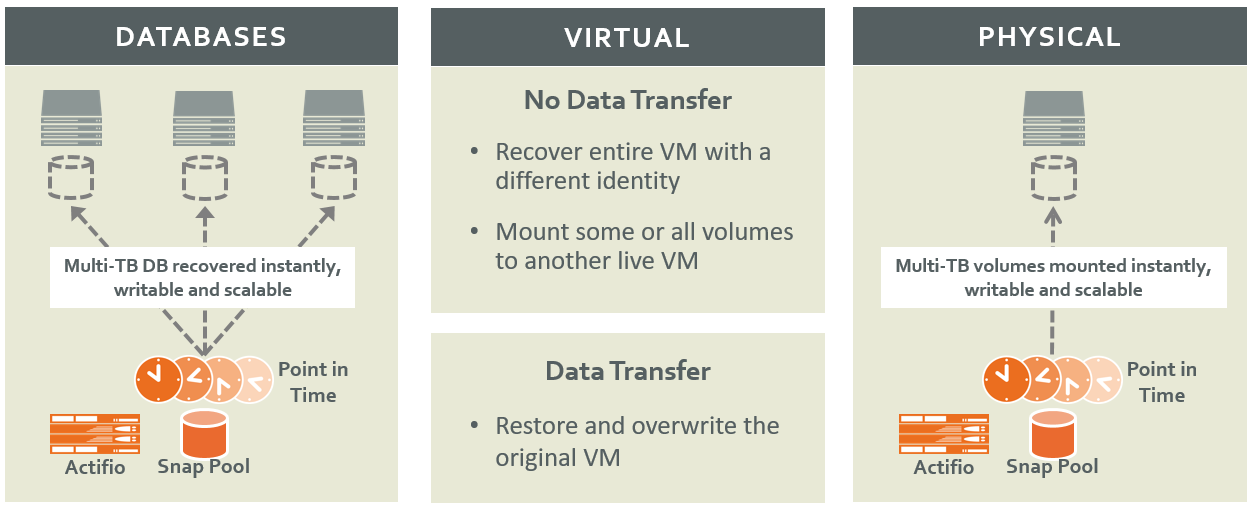 The benefits of this approach are:
1. Mission critical apps are available instantly
2. Less operations time spent in restores
3. Accelerate Pre Prod / Staging testing with virtual copies
Data Protection for VMWare
Even though each backup is incremental, Actifio synthesizes a PIT (point in time) virtual full copy. This provides a highly efficient backup process for VM's with a reduced impact on the underlying storage and infrastructure and faster recovery: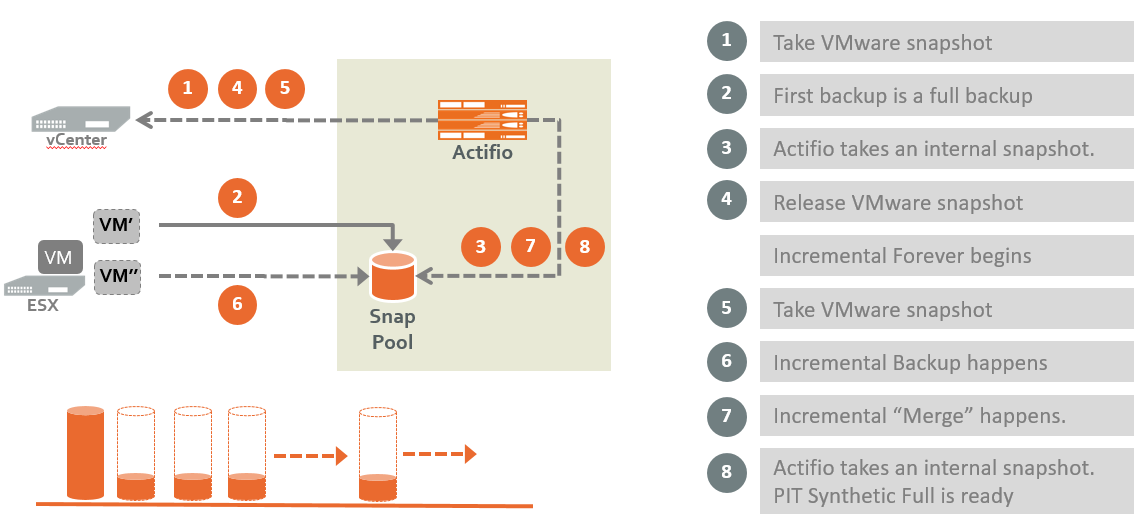 Data Protection for MS SQL & Oracle
Actifio eliminates recurring full Backups for multi -TB DBs. This frees up CPU, memory, storage IO, network IO on your mission-critical production applications. With every incremental, Actifio synthesizes a PIT (point in time) virtual full copy:

Actifio for Archiving
Actifio provides a tape-free model for the long term archiving of data, leveraging NAS, Private Cloud Object Storage or Public Cloud Storage. The benefits of this approach are:
Compliant: Long term compliance, with near line access to all data
Efficient: Storage and bandwidth efficient
Easy: Simple for Ops because of location independence

Actifio for DR
Actifio provides low RTO DR for VMware using Resiliency Director (RD). Resiliency Director is accessed through a web page and then a DR plan is easily and quickly created. This DR plan can be selected and quickly executed in a fully automated recovery process.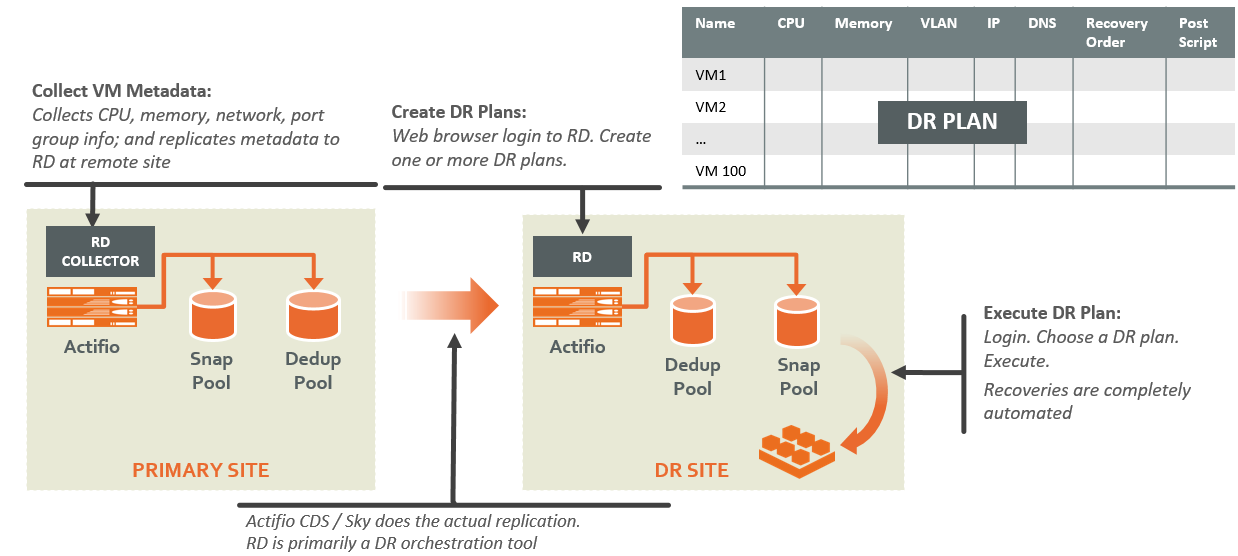 [ninja_forms_display_form id="1"]