QStar Technologies
What makes QStar different is our long term technology and support philosophy – something we feel is essential when preserving data for the future. QStar's flexible Active Archive software is designed to optimize storage resources for the needs of a digital archive. Every aspect of a QStar solution has been calculated to help companies maintain cost effective data access for years or decades using a proven strategy that delivers data security and record authenticity.
QStar's archive philosophy is reflected in the architecture of our software. Designed to be operating system and storage hardware independent, QStar customers are not locked into vendor specific server and storage hardware.  In addition they have the choice of using QStar's optimized proprietary file system (TDO) or industry standard files systems, such as LTFS for tape, or UDF for optical. The modular platform supports incremental capacity expansion from terabytes to petabytes, and offers advanced features such as replication and real-time mirroring. This unique approach gives QStar customers a long-term data archive strategy with the agility they need to evolve in changing market and financial conditions.
QStar Archive Manager software creates an 'Active Archive' by virtualizing an archive technology behind a file system. Users and administrators can see ordinary file shares and can easily search, find and retrieve data directly from the archive.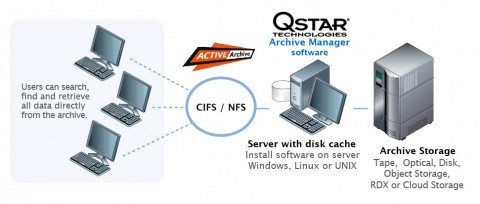 Simple Integration – Future Proof Software Solution
QStar Archive Manager software can be installed on any server platform running Windows, UNIX, or LINUX, for seamless integration with existing network security models. Software solutions can lower costs while offering easier migration to new servers, operating systems or storage as future needs dictate, delivering tremendous cost savings compared to appliance-based solutions.
QStar Network Migrator (QNM) is a policy based tiered storage and data lifecycle manager.  QNM software uses advanced policy management to monitor and automatically migrate, copy or move less frequently used files from primary storage to tiered storage or to a central archive. It may also be used to take a secure copy of important content to another storage location.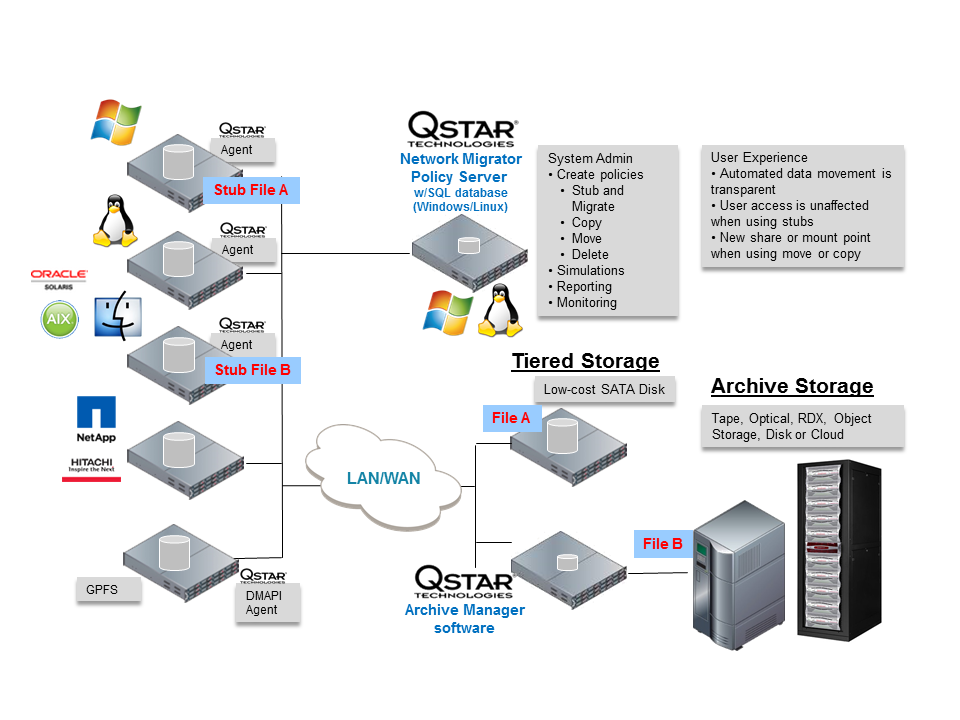 By migrating static or less frequently used files to lower cost storage such tape, businesses can optimize the use of primary storage, reducing the need and costs associated with purchasing more.  In addition, when data is managed properly and only the most recent or frequently changing files are included in the back up process, the backup window will be reduced.
QStar Network Migrator software can be easily installed on a Windows or Linux server.  Agents are available for each server managing data, using Windows, UNIX, Linux or Mac. QNM also supports a variety of API sets to integrate with "closed" file systems such as NetApp ONTAP, HDS HNAS, GPFS and HyperFS.
For more information, click here.
[ninja_forms_display_form id="1"]