Veeam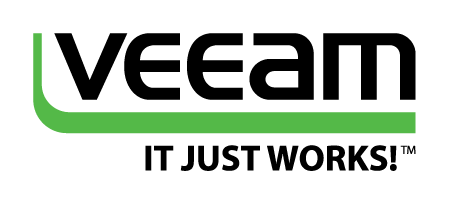 About Veeam
Veeam Backup & Replication™ provides fast, flexible, and reliable recovery of virtualized applications and data. It unifies backup and replication in a single solution, increases the value of backup and reinvents data protection for VMware vSphere and Microsoft Hyper-V virtual environments.
---
Complete Visibility of Backup Infrastructure
Get real-time monitoring, reporting and capacity planning for your backups within your favourite management framework. Veeam Backup & Replication™ provides integration with:
Report on unprotected VMs, control state of proxies and repositories, track free space consumption and analyse capacity trends to stay on top of potential storage space issues—all within your standard management framework.
---
Backup Features
2-in-1: Backup and Replication™
Not only can you backup your VMs, but you can also perform image-based replication either on-site for high availability or offsite for disaster recovery. With Veeam's near-continuous data protection (near-CDP), if a VM goes down, you can immediately fail over to a standby VM.
Agent-Free
There are no agents for you to license, deploy, manage or monitor on hosts or VMs.
Built-in WAN Acceleration
Get backups offsite 50x faster. Remove the hurdles to offsite storage with automated, agent-free backup copy jobs and built-in WAN acceleration.
Backup from Storage Snapshots
Storage snapshots by themselves are not enough. In the event of a SAN failure, you will need true backups to restore from – and until now, there haven't been any convenient, robust tools you could use to make backups using storage snapshots. Backup from Storage Snapshots gives you the opportunity to put your production storage capabilities to work and dramatically improve your recovery point objectives (RPOs) with no impact to your production VMs.

Deduplication
With compression and deduplication included at no extra charge, you can manage the large volumes of data generated by image-based backups. Reduce backup storage consumption and the amount of data sent over the network. Combined with bandwidth throttling and scheduling capabilities, Veeam extends the protection of your VMware environment to an offsite location or into the cloud.
---
Recovery Features
Enhanced 1-Click Restore with Self-Service Recovery
1-Click Restore in the Enterprise Manager web UI now offers the ability to restore entire VMs, and powerful new delegation options let you safely put restore tasks in the hands of business users. This results in faster recovery times and decreased burden on IT staff.
Instant VM Recovery
Instead of making users wait while you provision storage, extract the backup and copy it to production, restart a VM directly from the backup. With Instant VM Recovery™, you can recover a failed VM in as little as 2 minutes!
Universal File-Level Recovery
Recover a file from any guest OS and file system directly from an image-level backup—without booting the VM. vPower extends Veeam Instant File-Level Recovery with support for ANY guest file system.
---
Eurotech Project
Eurotech have successfully implemented Veeam Backup and Replication solutions on several different sites.
Here at Eurotech, we've consulted with our customers to provide local backup, remote backup and VM replication across all of their virtual infrastructures. While Veeam is the current "de facto" choice for backing up virtual environments, it also integrates well with many other backup solutions.
Eurotech were able to design and implement a Veeam/LTFS backup solution for comprehensive data protection. Veeam was used to control the data movement and LTFS storage was installed and configured as the repository for the backups. LTFS adds a less proprietary layer of long-term data storage, while also providing the ease of transporting the data between customer sites and other offsite storage facilities, when required.
For more information, please contact us.
[ninja_forms_display_form id="1"]