IBM FlashSystem V9000
IBM FlashSystem® V9000 is a comprehensive all-flash enterprise storage solution. FlashSystem V9000 delivers the full capabilities of IBM FlashCore™ technology plus a rich set of storage virtualisation features.
FlashSystem V9000 delivers industry-leading value to enterprises along three dimensions: Scalable Performance, Enduring Economics, and Agile Integration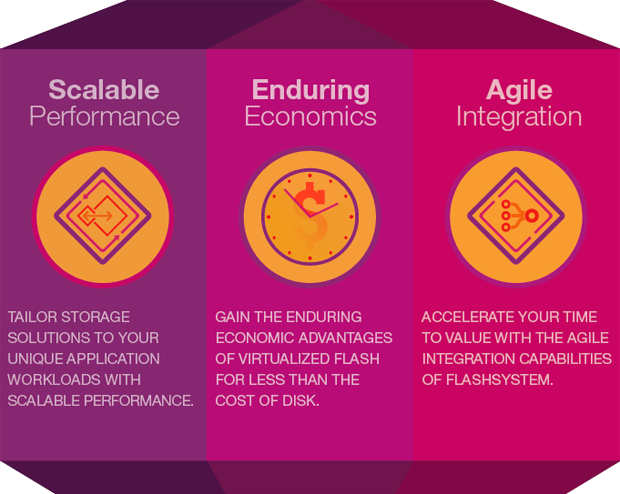 Flash realised! IBM FlashSystem V9000 performs better, costs less, and integrates more easily than any other enterprise storage solution.
IBM FlashSystem® V9000 delivers value into your unique data centre environment through scalable performance, enduring economics, and agile integration.
Click here to view the features and benefits >
---
Drive new business opportunities with IBM FlashSystem V9000…
Faster applications
Flash for less than disk
Consolidate mixed workloads
Software defined services

Deep application integration
Scale-up and scale-out
Protect your existing storage investments

---

IBM Real-Time Compression: improve efficiency and control storage costs by increasing the effective capacity up to 5 times

IBM Easy Tier: automatically migrates data between storage tiers

Data Virtualization: insulate applications from physical changes to your storage infrastructure

Thin Provisioning: enable dynamic growth, purchase only the storage you need when you need it

Highly Available Configurations: enable near-continuous data availability

Copy Services: provide space efficient backups
Client Quotes
---
"IBM FlashSystem Enterprise Solution accelerates some SAP ERP processing jobs by up to 90%."
– Luc Greefs, Director, Cegeka
"It was very easy to integrate IBM FlashSystem into our existing IBM SAN Volume Controller environment. For most systems, we let the IBM EasyTier technology determine which systems and data benefit most from the flash performance."
– Roland Wagner, Team Lead Systems, Stuttgarter Straßenbahnen AG
"Our mission statement is to make, sell and deliver coca-Cola Company products better than anyone else. By using IBM FlashSystem to accelerate our insights into customer demand, we're better placed than ever before to offer unbeatable levels of service to our customers across the United States."
– Tom DeJuneas, Infrastructure Manager, Coca-Cola Bottling Co.
---
[ninja_forms_display_form id="1"]