Tintri
As the IT world moves towards "Software-Defined X", Tintri leads the pack of next-generation Software Defined Storage (SDS). The benefit of driving storage system functionality and performance through software is that a new level of intelligence, scalability and adaptability can be realised in a way that was not possible with traditional approaches to storage.

Traditional storage is a mismatch for the specialized demands of virtualized workloads, requiring complex configuration, significant over-provisioning and ongoing optimization and management. SDS, on the other hand, learns and adapts to rapidly-changing workloads, eliminating mundane storage management tasks and delivering substantial improvements in performance and density over legacy storage. By reducing the amount of storage infrastructure needed for their virtualized environments, streamlining manageability, and speeding time to market of new applications and services, enterprises are able to make substantial improvements to the TCO and ROI of their virtualization initiatives.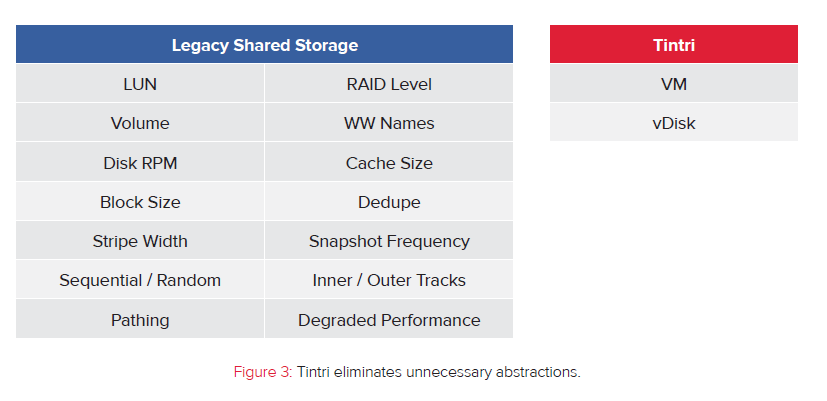 ---
Tintri Intelligent Virtual Machine Storage Benefits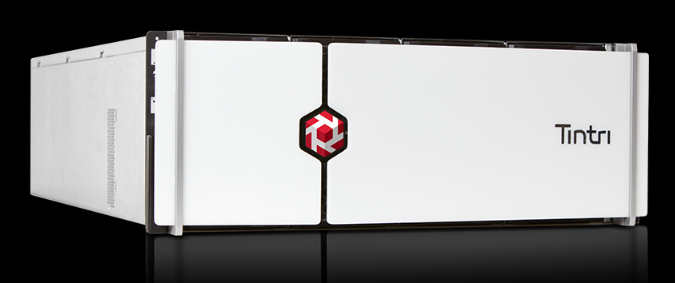 Storage that Sees:
Designed specifically for virtualized applications, Tintri automatically configures itself based on your environment and provides a complete end-to-end view of all virtual workloads.
Storage that Learns:
Tintri maintains constant communication with your entire virtualized environment. Actively changing VMs are tracked and highlighted so you have status on a moment-by-moment basis.
Storage that Adapts:
Because of unique per-VM data management and operations, Tintri can make adjustments including a dedicated IO "lane" per VM to maintain the best service for all virtualized applications.
Designed for Virtualisation and the Cloud
Tintri has designed its solution to specifically address the virtualisation and cloud market that has come to dominate enterprise datacentres. This can help IT architects, administrators or storage managers to:
Realize the full potential of virtualization with intelligent storage.
Set-up in minutes with support for multiple VMware vSphere or Red Hat Enterprise Virtualization datacentres
Manage storage at the level of VMs and vDisks, not LUNs and volumes—eliminating complex configuration or ongoing tuning.
Get 99 percent of IO from flash, for all-flash performance without the all-flash price.
Serve hundreds of different types of VM workloads from a single VMstore with dedicated IO lanes per vDisk and performance allocation—eradicating the impact from noisy neighbors on other virtual workloads.
Eliminate bottlenecks and troubleshooting overhead with infrastructure insight.
Get a single view of all VMs stored and identify performance and capacity trends without the complexity associated with low-level storage constructs.
Instantly identify performance hot spots at the hypervisor, network and storage levels with comprehensive performance visualization.
Leverage optional Tintri Global Center™ software to monitor and administer multiple VMstore systems and resident VMs from a single control pane.
Stay in control of virtualization environment while VMstore eliminates mundane storage management tasks.
Protect individual VMs with customizable policies for VM-level instant space-efficient snapshots — eliminating the complexity of LUNs and volumes mapping.
Deploy WAN-efficient replication at the VM-level using as much as 95 percent less bandwidth with block-level global deduplication and compression over the wire with optional ReplicateVM™ software.
Store up to 100 TB of effective capacity with inline data reduction.
Create hundreds of high performance zero-space VM clones locally or remotely.
Ideal for speeding up VDI deployments and for development/test workloads.
Protect data with optional SecureVM™ software to encrypt data inline using 256-bit AES algorithms and without impacting performance, with in-built key rotation.

---
Downloads
Why Tintri for Server Virtualization
State of Storage 2015 – Full Report
Time is Money
Find out how you can save your time, money and sanity, and as a thank you we'll give you a Apple watch.
---
The Eurotech Difference
For over 23 years Eurotech has been providing enterprise IT solutions and managing mission-critical business applications for our customers. Our sales, technical and project teams have a broad range of skills and extensive experience across technology stacks and we are leading innovators across EMEA in the design and deployment of next-generation datacentres. In so doing, we have pioneered in a number of areas:
1. First worldwide all-flash VM-aware storage array
2. First hyper-converged solution deployed in Africa
3. First worldwide Lenovo-Nutanix solution
4. First worldwide 3D-VDI-as-a-Service for advanced remote seismic analysis
We look forward to helping you achieve your goals in deploying innovative solutions that deliver immediate business benefits and long term value.
[ninja_forms_display_form id="1"]