Vormetric
Introduction

The Vormetric Data Security Platform efficiently manages data-at-rest security across your entire organization. Built on an extensible infrastructure, the Vormetric Data Security Platform is composed of several components that can be deployed individually or as a whole, while offering efficient, centralized key management.
---
An Integrated Security Solution
The Vormetric Data Security Platform delivers capabilities for transpost_parent file-level encryption, application-layer encryption, tokenization, dynamic data masking, cloud encryption gateway, integrated key management, privileged user access control, and security intelligence.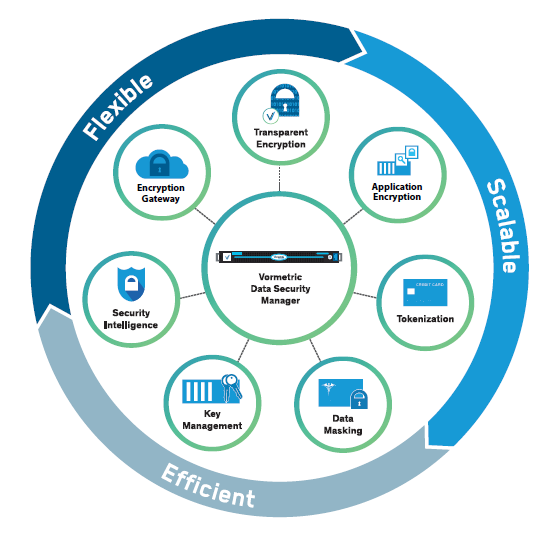 Through the platform's centralized key management and flexible implementation, you can address security policies and compliance mandates across databases, files, and big data nodes—whether assets are located in the cloud, virtualized environments, or traditional infrastructures.
---
Platform Components
The Vormetric Data Security Platform features these products:
Vormetric Data Security Manager
Offers centralized management of keys and policies for the entire suite of products available within the Vormetric Data Security Platform. Available as a virtual or FIPS 140-2 physical appliance.
Vormetric Transpost_parent Encryption
Features a software agent that runs in the file system to provide high-performance encryption and least-privileged access controls for files, directories, and volumes. Enables encryption of both structured databases and unstructured files.
Vormetric Tokenization with Dynamic Data Masking
Delivers capabilities for format preserving tokenization and dynamic display security for databases. Supports PCI DSS compliance requirements and audit scope reduction. Both traditional token vault-based and high-performance vaultless solutions are available.
Vormetric Application Encryption
Streamlines the process of adding encryption into existing applications. Offers standards-based APIs that can be used to perform high-performance cryptographic and key management operations.
Vormetric Cloud Encryption Gateway
Enables organizations to safeguard files in cloud storage environments, including Amazon Simple Storage Service (Amazon S3), Box, and Caringo. Offers capabilities for encryption, on-premises key management and detailed logging.
Vormetric Key Management
Centralizes management of keys for Vormetric products, IBM InfoSphere Guardium Data Encryption, Microsoft SQL Server TDE, Oracle TDE, and KMIP-compliant encryption products. Securely stores and inventories certificates.
Vormetric Security Intelligence
Produces granular logs that provide a detailed, auditable record of file access activities, including root user access. Offers prepackaged dashboards and reports with security information and event management (SIEM) systems to streamline compliance reporting and speed threat detection.
---
Business Benefits
Vormetric offers the following key benefits:
1. Strengthen Security and Compliance – Vormetric offers a flexible and scalable set of solutions that can meet a broad set of use cases, so security teams can protect sensitive data across the organization. The platform provides capabilities for encrypting and tokenizing data, controlling access, and creating granular security intelligence logs. The platform delivers the comprehensive capabilities that enable you to address the demands of a range of security and privacy mandates, including the Payment Card Industry Data Security Standard (PCI DSS), the Health Insurance Portability and Accountability Act (HIPAA), the Federal Information Security Management Act (FISMA), and regional data protection and privacy laws. With these capabilities, organizations can effectively combat advanced persistent threats (APTs), guard against insider abuse, and establish persistent controls, even when data is stored in an external provider's infrastructure.
2. Maximise Staff and Resource Efficiency – The Vormetric Data Security Platform makes administration simple and efficient, offering an intuitive Web-based interface, as well as an application programming interface (API) and command-line interface (CLI). With the solution, data-at-rest security can be applied quickly and consistently, maximizing staff efficiency and productivity. Furthermore, this high-performance solution enables efficient use of virtual and physical server resources, reducing the load on the service delivery infrastructure.
3. Reduce Total Cost of Ownership – The Vormetric Data Security Platform makes it simpler and less costly to protect data at rest. The platform enables your IT and security organizations to quickly safeguard data across your organization in a uniform and repeatable way. Instead of having to use a multitude of point products scattered across your organization, you can take a strategic, consistent and centralized approach with the Vormetric Data Security Platform
---
Downloads
Bloor Whitepaper
For the EU's new data protection regulation, encryption should be the default and should be seen as a strategic part of the entire security system
Data Threat Report
Trends in encryption and data security
---
The Eurotech Difference
For over 23 years Eurotech has been providing enterprise IT solutions and managing mission-critical business applications for our customers. Our sales, technical and project teams have a broad range of skills and extensive experience across technology stacks and we are leading innovators across EMEA in the design and deployment of next-generation datacentres. In so doing, we have pioneered in a number of areas:
1. First worldwide all-flash VM-aware storage array
2. First hyper-converged solution deployed in Africa
3. First worldwide Lenovo-Nutanix solution
4. First worldwide 3D-VDI-as-a-Service for advanced remote seismic analysis
We look forward to helping you achieve your goals in deploying innovative solutions that deliver immediate business benefits and long term value.
[ninja_forms_display_form id="1"]